What are the differences between a BERG, Etan and Salta trampoline?
February 8, 2021
A trampoline in your backyard allows your children to jump around after a day of school. A trampoline makes exercise feel like fun, and it also helps that you're working on your physical form. For children, jumping on a trampoline is the perfect way to let off some steam. You'll feel like you can fly, trying to jump higher and higher and endless amounts of tricks are to be explored. A trampoline is an outdoor activity which allows children to play in a safe and responsible manner.
A trampoline is available in all kinds of shapes and sizes. The difference between a circle-shaped and a rectangular-shaped trampoline, for example, is that a rectangular one allows you to use the entire surface. Thanks to the powerful resilience in combination with the strong frame you'll be able to jump higher. At this day and age, since there is a lot of demand, there is a wide variety of brands to choose from. Not every brand is the same though, and quality can definitely differ between different brands. Not only the jumping surface itself, but also the edges, safety nets and remaining parts that a trampoline contains can see a significant difference in quality between suppliers independently from the price which differs a lot. To guarantee the children's safety, picking a renowned brand is in your best interests. De three most well-known brands who guarantee safety, quality, durability and service are BERG, Salta and Etan. All three of them have a diverse selection of models and types of trampolines.
Below you'll find all information about BERG, Salta and Etan. With this you'll be able to easily recognize the pros of the brands, the differences between the trampolines and additional useful information.
BERG
One of the 3 most renowned trampoline brands is BERG who own a global and wide product range in both online and physical stores. BERG's trampolines are of such good quality that the trampoline will be able to be outside during the entire year without discoloring or showing signs of rust. The unique aspect of BERG trampolines are the excellent springs, which allows you to jump higher easily. There is a choice between round, rectangular and even trampolines and out of an inground, flatground or standing trampolines. The trampolines are available in the colors grey, red and green. This means every garden will be able to find the right size and color. BERG trampolines guarantee quality and completeness for an excellent price.
€395,00
Favorit-Line
BERG's Favorit-line is with care and attention developed so both children and adults can express themselves with joy and safety. These trampolines differ from others by using the long GoldSpring Solo springs which accounts for a pleasant experience. The Safety Net Comfort is extra safe thanks to its self-closing entrance and a protecting foam layer around the support beams.
BERG Favorit Regular
The frame of this trampoline is exceptionally strong, and the tension of the springs and the frame are spread evenly around the entire jumping surface which provides a nice jumping experience all over the trampoline. The trampoline is available as a standard trampoline with legs without a safety net or as an inground with a safety net.
BERG Ultim Favorit
The Ultim favorit is recognisable by its rectangular shape. The trampoline is available as a standard trampoline with legs or as an inground trampoline.
BERG Grand Favorit
This is an oval-shaped trampoline which combines the pros of the round and rectangular trampolines. You'll be able to profit from the efficient and strong frame of the round trampoline ánd the big surface of the rectangular shaped one. BERG is the only supplier of quality oval trampolines.
Pros BERG trampolines
An extra strong frame made of galvanized and powder coated steel, which makes the frame rust resistant.
Protective edges with a long lifespan due to UV-resistant PVC
Sometimes over 40 cm wide extra thick protective edges (2 cm) which provides safety
Long GoldSpring Solo springs which allow you to be able to jump convenient over the entire surface of the trampoline
Prices BERG trampoline
The most basic form of a BERG trampoline without safety net etcetera are not far away from a sheer €200,-. Prices increase by increasing sizes, adding extra parts etcetera to well over €1000,-.
ETAN
Etan has been a supplier of trampolines since 1988. Etan provides a combination of quality, price, joy and safety. Etan's trampolines are to be split into inground and standard trampolines and are partly produced in Bosnia. The inground, both to be gotten in rectangular or round and with or without safety net, has a minimal fall distance since it is integrated into the ground. Etan also has standard trampolines with legs in its assortiment. These are to be found in different sizes, colors and qualities.
Etan has the Etan-Hi-Flyer and the Etan Premium line in its assortiment which differ in quality (and price). The Hi-Flyer is a safe trampoline with a lucrative price. The premium trampolines are of higher, European quality. The jump surface, for example, is sustainable and UV-resistant. The edge pillows are also not only thicker, but also made of German PVC.
Trampoline accessories
Etan has a wide variety of trampoline accessories. Most accessories are made to further extend the life expectancy of the trampoline, like the cover which protects the trampoline from bad weather. Accessories are also to be bought to increase the spring power to jump higher, like the Etan bounce board which makes jumping even more fun! Or a trampoline which allows you to enter it more easily and safer.
Trampoline components
Besides the great amount of accessories Etan also has a lot of components. When something is due to be replaced or a component is to be added, this is possible. This can be a new frame, a safety net, protective edge or springs. Even the smallest components are to be acquired with Etan.
Prices Etan trampoline
The price range of Etan trampolines goes up from €450,- to €1500,-, depending on desires of the customers.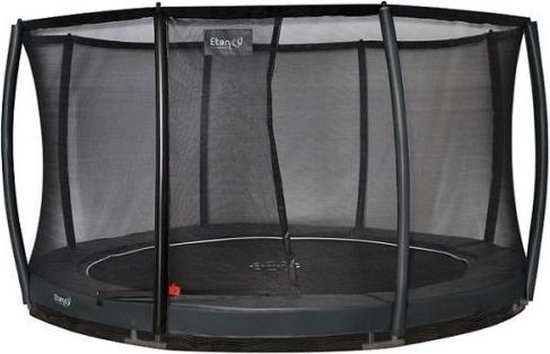 SALTA
Standard Salta is to be found in different sizes and with or without a safety net. These are more than suitable for the casual jumping which doesn't include difficult techniques. These are the Salta Comfort and Combo models.
There is also the "Excellent inground", which basically means installing it inground is extra easy thanks to its low legs. More springs and thicker and wider edge pillows cause it to be a model in a category higher compared to the standard model.
Besides that the "Premium Black Edition" exists, which in terms of quality and safety is comparable to the Excellent inground. The Premium Black edition is however completely black with a black powder coated frame and smaller and thinner edge pillows.
The "Salta First Edition" is the best type in Salta's assortiment. Due to its heavy black powder coated frame, thick edge pillows and long springs this Salta trampoline is a joy to use.
Finally there is also a trampoline designed for fitness and children's trampolines.
Salta trampolines above ground
Salta comfort
The Salta Comfort has been selected as the best Trampoline for at home by the experts of Betersport. This is mainly because the trampoline has a great jumping experience with a surprisingly low price. A Salta Comfort trampoline is sufficient to all safety norms and comes with a safety net.
Salta Premium Black
The Salta premium black is a modern trampoline coming from the premium segment. The high quality in combination with the black color-scheme makes this a really popular option. This trampoline has an unique look due to a black powder coated frame, an anthracite edge and a black safety net. The Salta Premium Black is available in different sizes, and both round as rectangular shaped.
The most bought trampoline in this series is the Salta Premium Black Trampoline 244 x 396 cm.
If you're looking for a complete and safe trampoline, a trampoline from the First Class series of Salta might be the ideal option. These trampolines come with a tight safety net and fitting stairs. The First Class trampolines are of high quality, and come in the colors black and green. Just like the Salta Premium Black you'll be able to choose between a rectangular and round trampoline, both in different sizes.
Salta Fitness Trampoline
The professional Salta Fitness Trampoline is fitting for both advanced and amateur athletes. The included ring provides extra stability and is used for the most intensive workouts. The Salta Fitness trampoline is available in orange or green.
The junior trampoline is developed specifically for young children. This small trampoline of 140 cm with safety net is suited for toddlers, preschoolers and children in elementary school. This trampoline can be used both in- and outdoors and comes in black or pink.
Salta Excellent Ground
The Salta Excellent Ground trampolines are, as the name suggests, of excellent quality. The trampolines can be integrated in the garden which gives a smooth transition from grass to trampoline. The Salta Excellent Ground trampolines are available in different sizes and in the colors green and black.
A Salta Royal Base Ground is the perfect trampoline for those who seek a circle-shaped inground trampoline which is not too visible in the garden. Since the Royal Base Ground has the ability to be fully integrated in the garden, it'll only stick out 3 cm above the grass. These stable trampolines are delivered in different sizes, ranging from 251 to 427 cm.
Prices Salta trampolines
A Salta Junior or Fitness trampoline is just €159,-. Prices increase for the most luxurious and complete sets up until €1000,-.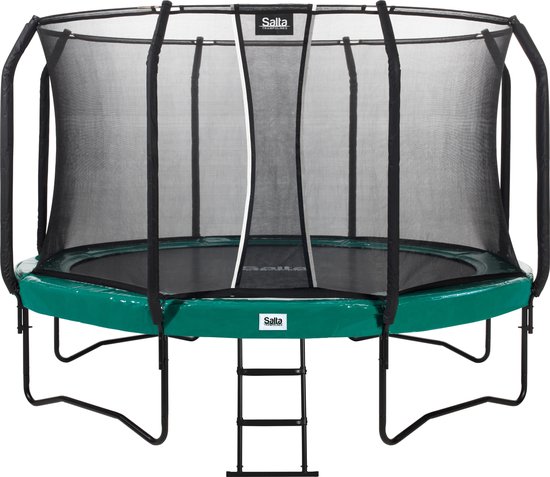 Have fun jumping!