Pjur lubricants - all types 
September 28, 2022
Different types of Pjur lubricants have been developed, so there is a solution for every target group.
The total offer of Pjur can be found on Glijmiddelshop.com, the No. 1 webshop for him and her. Here you will also find different quantities and offers, so there is something for everyone to order online and get it quickly and easily discreetly into your home.
Pjur produces and supplies premium lubricants with excellent lubricating properties. This brand is often purchased by users and is known for its quality, pleasant experiences and high scores from users.
You can use Pjur lubricants perfectly for sex, masturbation and when using sex toys.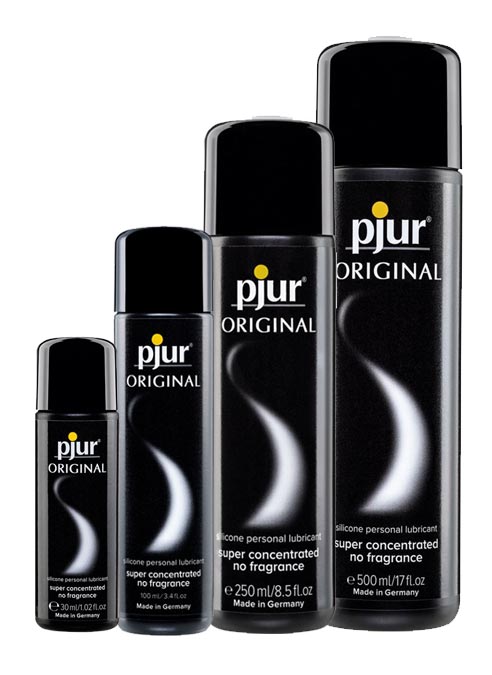 Why use lubricant?
You have water-based, oil-based and silicone-based lubricants. Water-based lubricant is useful when using a condom. Oil-based lubricant is especially nice for people who don't use a condom because it can tear more easily. Silicone-based lubricant is extra nice when having sex in the shower. Do you have certain allergies or sensitive skin? Then choose an organic product.
Lubricants can be used to make penetration smoother (smoother). Blood flow in and around the vagina causes fine droplets of fluid to leak through the vaginal wall, moistening the entire vulva. Lubricant can make sex a lot nicer and less painful. How moist your vagina becomes depends on hormone fluctuations. So it can be that it stays dry even if you are aroused. Especially penetration can then be very painful. Lubricant is then the solution!
Although you may think that lubricant is especially useful for older women, because their vagina is drier, it can be a nice tool for anyone. In fact, research shows that 1 in 3 women experience pain during sex on occasion. Lubricant is useful not only for penetration, but also for anal sex, a massage or jerking off. For every need there is a solution in the form of a specially developed lubricant.
What types of Pjur lubricants are there?
The all-round lubricant for maximum pleasure. Pjur Original is the first and one of the best-selling personal silicone lubricants in the world. It offers a pleasant, long-lasting moist feeling, while making your skin smooth and silky. Pjur Original is super-concentrated and the right choice for intimate, exciting hours. As a safe and reliable lubricant, Pjur Original promises a good time. As goes without saying, it is tasteless and odorless, and very good for your skin. pjur Original is also ideal for a gentle body massage, this one relaxes every tense muscle. Release your imagination, fantasies and desires. Try it for yourself! pjur Original is the best choice for new users and lovers at the same time.
This lubricant from Pjur with Panthenol is a premium water-based lubricant with a long-lasting effect. Panthenol is the working ingredient that has a nourishing and restorative effect. It also leaves the skin feeling silky smooth. This lubricant is safe to use with silicone toys and does not stick. Looking for a premium water-based lubricant with that special something extra? That's pjur aqua Panthenol! Enjoy long-lasting lubricity and a pleasant feeling on the skin. Panthenol works caring and restorative. Works moisturizing and lasting care for the skin.
Is a water-based lubricant specially developed for intense anal sex. The addition of Hyaluronic acid with additional moisturizing properties forms small water cushions to provide additional support for lubrication. This water-based lubricant Pjur Backdoor Comfort Slide (for anal use), which almost feels like silicone, has a very long-lasting lubricity yet has all the benefits of water. The lubricant is non-sticky and tasteless and odorless.
Due to its high concentration, BACK DOOR Comfort Water Anal Glide is particularly well suited for intensive anal sex and also for all erotic toys.

Is especially for the sensitive woman. The water-based formula in pjur® AQUA (lubricant) is a CE-certified medical product of the highest possible quality and with the highest level of user pleasure currently available.

With an extra dose of pjur feeling for everyone who wants more. Performance-enhancing Ginkgo extracts are incorporated with the third natural ingredient in the special product series for stimulation. The premium water-based lubricant is specially developed for men who want to harness and prolong their power. Ginkgo, in particular, has been used in Chinese medicine for centuries and is valued for improving blood circulation. It is synonymous with growth, strength and energy. pjur superhero has a strengthening and invigorating effect.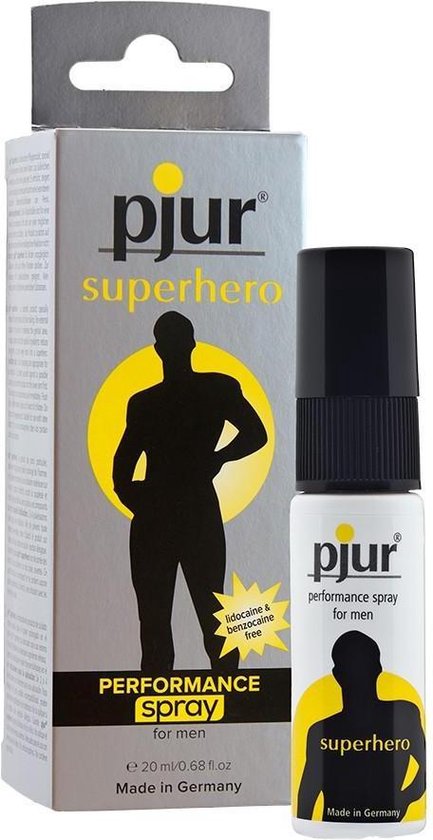 Pjur Aqua is Pjur's best-selling lubricant, hence this additional information about it. It is water-based (aqua) and therefore goes well with all toys. The lubricant contains no fats and is therefore also good for the skin without being sticky. A fine lubricant for optimal comfort with a neutral smell and taste.
The quality speaks for itself and has received an Excellent rating from "Stiftung Warentest," an independent German consumer organization.
The soft and high-quality formula of this Pjur Aqua is completely absorbed by the skin, creating a pleasant feeling. It moisturizes, is never sticky and is free of petroleum, oil and perfumes, making it very gentle on your skin and mucous membranes. Pjur Aqua's ultra soft and long-lasting formula nourishes and protects against dry, damaged skin. This water-based formula stays moist for a long time. This lubricant feels comfortable on the skin. It is dermatologically tested for skin compatibility.
Whether for daily intimate enjoyment or regular body care, Pjur Aqua always feels good.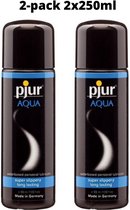 Benefits Pjur Aqua
Premium water-based lubricating gel - high-quality lubricating gel (250ml) with excellent gliding power Your companion for vaginal and anal intercourse, masturbation and sex toys.
Cares and moisturizes - the water-based lubricant stays moist for a long time, soaks in and provides a pleasant skin feeling. Stays moist for a long time without sticking.
Dermatologically tested - Pjur AQUA requires no additional fragrances, flavors and preservatives. Skin compatibility is dermatologically tested and approved.
Suitable for sex toys and condoms - the product contains no oil or grease and is suitable for condoms (latex). Because it is silicone-free, it is suitable for use with sex toys!
100% made in Germany - the name pjur has stood for reliability, safety and "Made in Germany" since 1995. The goal of pjur is to improve the quality of people's (love) lives worldwide.
- Ingredients are Aqua (Water), Glycerin, Ethoxydiglycol, Phenoxyethanol, Hydroxypropyl Guar Hydroxypropyltrimonium Chloride, Hydroxyethylcellulose, Citric Acid.
- For use with latex condoms and sex toys
- Perfume free
- Moisturizing
- No contraceptive
- Taste and odor neutral
- Recommended for daily use
- Cares and protects dry and stressed skin
- Fully absorbs into the skin and leaves a silky feel on the skin
Alternatives to Pjur?
If you're looking for an alternative lubricant to Pjur with at least the same quality, we recommend checking out and trying Liquid Silk and/or ID Glide products!