Why Liquid Silk lubricant?
September 28, 2022
If you are looking for the best lubricant, then you are looking for Liquid Silk lubricant. Liquid Silk is perhaps the most widely used and most popular lubricant in the Netherlands and Belgium. This lubricant is produced by Bodywise in the UK and can be bought at glijmiddelshop.com (tip!) without shipping costs. You can also buy it in the Netherlands and Belgium at bol.com.
What is Liquid Silk lube?
Liquid Silk lube is a water-based lubricant that can be used without problems in combination with condoms and latex. This lube is also good for anal use.
Liquid Silk lube does not stick and has the advantage that it is also a skin conditioner, so your skin does not dry out after use. Thus, your skin feels silky smooth. Another advantage of this lubricant is the fact that it kills unwanted bacteria and thus has a hygienic effect.

What are the ingredients of Liquid Silk lubricant?
Liquid Silk consists of: Highly Purified Water, Isopropyl, Propylene Glycol, Dimethicone (2% Silicone), Cellulose Polymer, Palmitate, Polysorbate 60, Cetearyl Alcohol, Glyceryl Stearate NSE, Sorbitan Stearate, B.N.P.D, Di Sodium EDTA, Methyl Paraben, Butyl Paraben, Phenoxyethanol, Ethyl Paraben, Propyl Paraben and BHT.
Where can I buy Liquid Silk lubricant?
Glijmiddelshop.com
The cheapest provider of Liquid Silk lubricant in the Netherlands is glijmiddelshop.com. For orders over 20 euros they charge no shipping costs, everything is discreetly packed and shipped.
Bol.com
Another provider of Liquid Silk is Liquidity on bol.com. They get a 10 as a review. With them you buy a 2-pack of 250ml lubricant per 2 bottles for less than 30 euros. A better offer for Liquid Silk cannot be found in the Netherlands and Belgium. There are also 4-packs or 10-packs for sale which makes it even cheaper per bottle.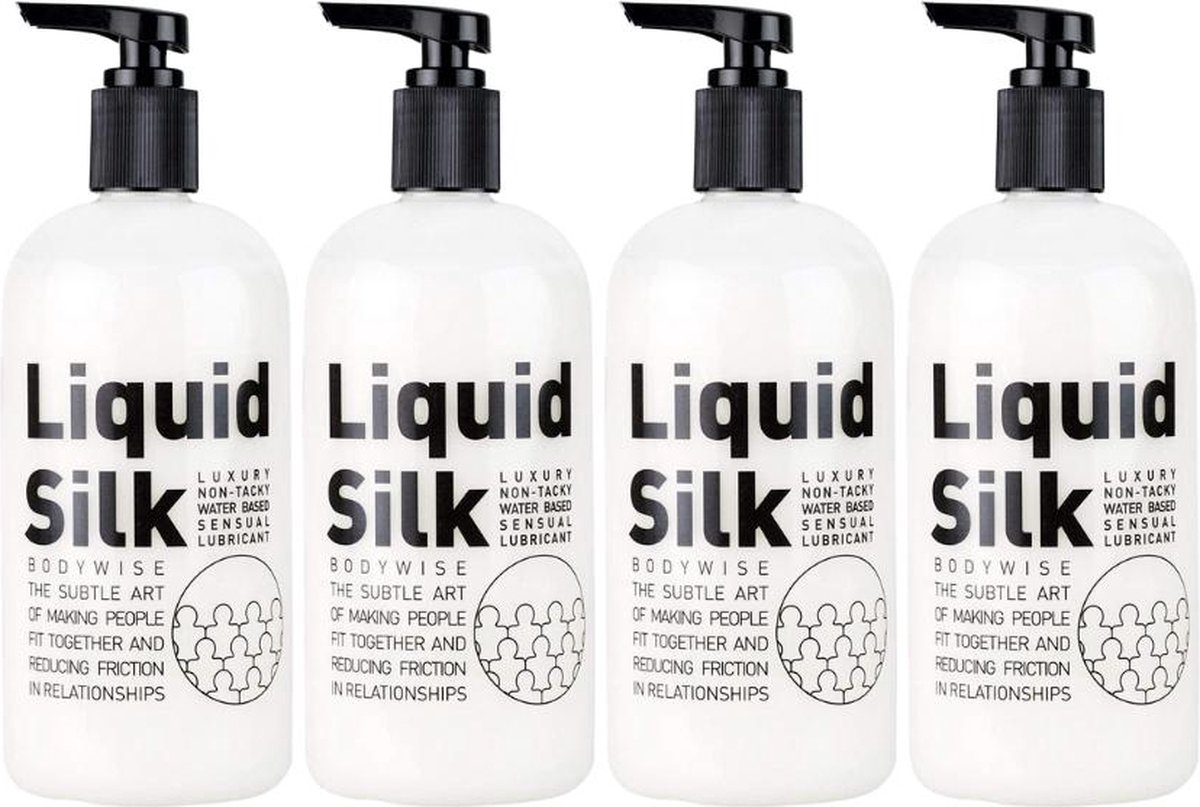 Why use lubricant?
Lubricant can be a great tool during lovemaking. It makes sex a lot nicer and less painful for both women and men. Lubricant makes the vagina and anus extra supple and moist. They can stay dry even when you are aroused. Without the use of lubricant, penetration can be impossible or very painful. As many as 1 in 3 experience pain during penetration, regardless of age.
Lubricant is purchased and used worldwide, by many more people than you might think. It really doesn't only apply to older people. Lubricant is accepted and quite normal to purchase as an aid during lovemaking.
You have several types of lubricants based on water, oil and silicone. Water-based, among others, is best when you use a condom. If you do not use a condom, then oil is more convenient as a condom tears more easily with oil. For the shower, silicone-based lubricant is recommended. By the way, you can also use lubricant for massage or jerking off.
Alternative lubricants
As described above, Liquid Silk is one of the best lubricants. However, you can also purchase a variant whose quality is guaranteed. Well-known alternative lubricants are Pjur Aqua and ID Glide.