Bosch Unlimited (Series 8) vacuum cleaner review: as good as a Dyson vacuum cleaner?
March 29, 2023
If you are planning to buy a cordless vacuum cleaner, you can of course buy a Dyson. But after Dyson, Bosch brand cordless hoovers are the best-selling. The Bosch range consists of 51 models on bol.com, for example, and 16 models on Coolblue, for example. Bosch vacuum cleaners are a popular choice, especially if you want to buy a cordless hoover.
Bosch's top models of stick vacuum cleaners are the Unlimited Series 8 models. Is a Bosch cordless vacuum cleaner as good as, say, a Dyson V8, V10 or V11.
If you want to know the differences between the latter 3, read our article on the difference between the Dyson V8, V10 and V11 here.
Bosch vacuum cleaners have become increasingly popular over the years, largely because of their innovative features, reliable German engineering and quality design. Until recently, Bosch sold a range of upright, cylinder and cordless hoovers. The company now seems to be focusing on their cordless range, possibly due to new EU regulations on power consumption and noise.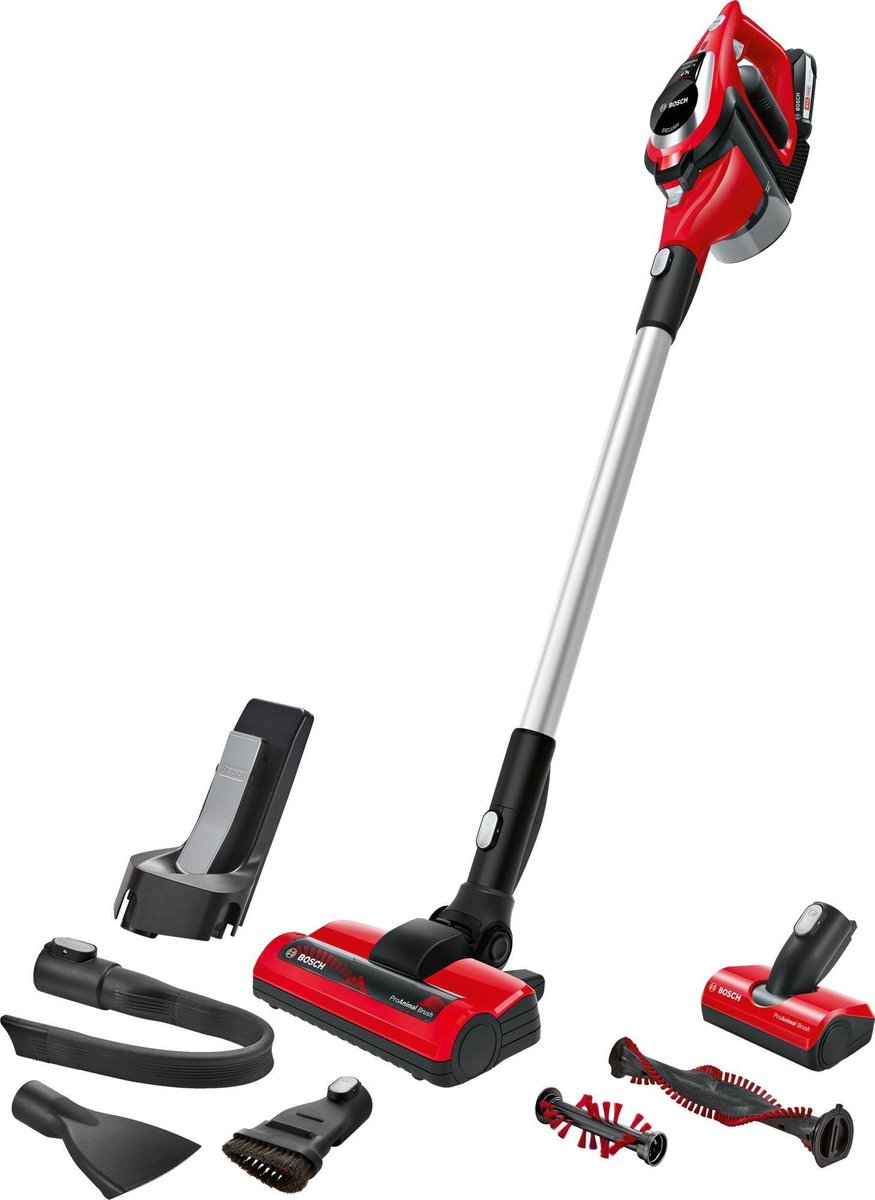 We don't need to explain much about Dyson. They pretty much invented the cordless vacuum cleaner. Design and performance come together. The Bosch Unlimited is a hoover that meets all requirements. It is light and manoeuvrable and, as modern hoover fashion dictates, is also cordless, meaning you don't have to worry about finding a new socket when moving from room to room. And although it doesn't have bright colours but a more subdued white, black and chrome colour scheme, it still looks modern and sleek. It is similar to some of Dyson's vacuum cleaners when it comes to price - the question is: can it compete with them in terms of performance?
The big question is: is an Unlimited Series Bosch stick vacuum cleaner as good as one from Dyson?
About the Bosch Unlimited Series 8 cordless vacuum cleaners
The handheld motor unit and dust collection part can be attached to different cleaning accessories to do the cleaning. The main attachment consists of a motorised carpet cleaning brush that attaches to the Bosch with a long stick (or wand).
The Bosch Unlimited also comes with a flexible crevice tool and a furniture brush, two rechargeable batteries and a docking station to charge the battery. It is not as well-equipped as the Dyson V8 Animal, which comes with an extra smaller motorised head for easier cleaning of stairs, or the Roidmi X20, which comes with a mopping attachment.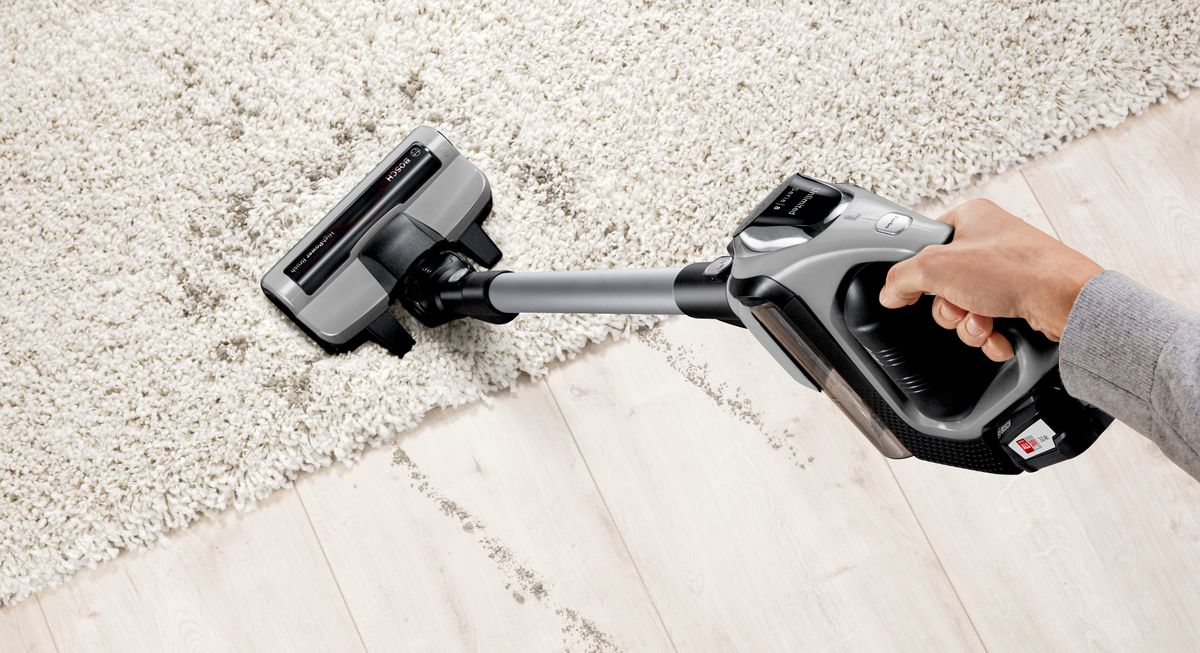 Bosch Unlimited (Series 8) review: price and competition
The price you pay for Bosch's flagship handheld vacuum cleaner is pretty standard for a flagship handheld. It costs €310 on Bol.com, which is a bit cheaper than the Dyson V8 Animal, which is €429 on Bol.com. The latter comes with only one, non-removable battery, but one extra accessory - that mini motorised staircase cleaning head.
Bosch Unlimited (Series 8) review: design and features
The configuration of the Bosch Unlimited will look familiar to most people by now; if you've seen a Dyson V8, you'll know what it's like. The vacuum motor, battery and dust collection bin are all housed in a compact, portable unit to which you connect your cleaning accessories.
Collection bin size
As popularised by the eponymous Dyson, this Bosch is also bagless, but it only has a 0.4 l capacity, so you'll need to empty it quite often. It is smaller than the 0.54 l collection bin of the Dyson V8, although on balance there isn't enough in it to make a significant difference in the way you use the hoover.
Emptying the collection bin
However, there are many differences between the two machines, and the main one is not in favour of the Bosch. Simply put, the mechanism used to remove the dust collection bin for emptying is not very user-friendly. To begin with, it is not immediately clear how to do this. It appears that you have to press a release button and pull the bin down and away from the main part of the vacuum, but this is a twist you have to guess at. There is no indication on the vacuum itself whether you pull, push or twist the bin to take it off, nor is there a label on the release button.
This was compounded by the fact that it takes quite a bit of effort to remove the bin from its moorings in the first place. And in my case, the release button was also quite difficult to press - if I didn't press it in the right place, the bin remained firmly in place. All in all, it's a rather poor piece of design, which is a shame because the rest of the vacuum is sensibly put together.

Battery life
The quick-release battery, for example, is a great idea, especially as the Bosch Unlimited comes with two in the box and a docking station for charging. This means you can leave one battery charged while you are vacuuming, and if the one you are using runs out, you can easily replace it and carry on.
The small 3000 mAh batteries also last a decent amount of time - about 11 minutes per charge at maximum power and almost an hour at low power. They also charge quickly, in about an hour, and as a bonus, they are also compatible with Bosch Unlimited range of battery-powered home appliances and tools.
Another handy feature is that, when you manage to remove the bin, there is a small handle at the top that knocks dust out of the nooks and crannies of the filter as you turn it. This means you do not have to bump the filter against the side of the bin; it is a cleaner and less messy method than most bagless hoovers, and it does not lead to the release of large clouds of dust every time you empty the bin.
Apart from the bin release system, the whole thing feels good. It is somewhat disappointing that there is no smaller motorised head to clean the stairs, but you can use a regular head without too much hassle. And it's a bonus that you don't have to keep your finger on a trigger to keep the vacuum on. Just pull the trigger once to start the motor and then pull it again to switch it off. Easy!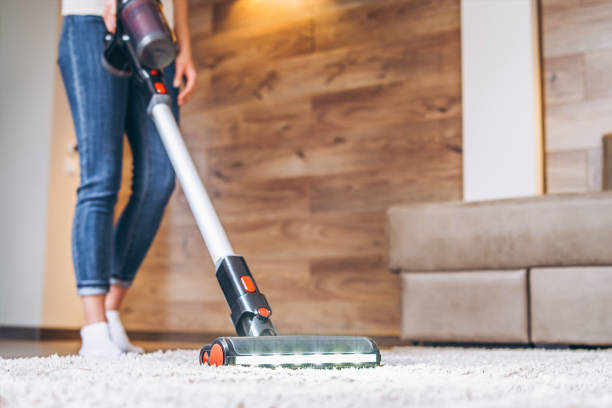 Bosch Unlimited (Series 8) review: performance
The Bosch Unlimited has two cleaning modes - standard and "Turbo" - that you can switch between by pressing a button on top of the hoover's pistol grip. While the standard mode provides long battery life, it is not particularly effective and produces only 4.5 kPa of suction. This is less powerful than the economy modes of all its main rivals. The Dyson V8 and V7, for example, are much more powerful. This is already different when Turbo is switched on, but the Bosch is still not great and lags behind the Dyson vacuums.
The flip side is that while the Bosch struggles with large particles on hard floors, it outperforms some of its competitors with fine particles on carpeted surfaces because it creates a tighter suction seal. Overall, the Bosch delivers decent performance, but not exceptional. The good news is that battery life is excellent. Even with a single battery, the Bosch lasts longer in high-power and low-power modes than the Dyson V8, lasting 11 minutes in Turbo and 50 minutes in standard mode. Switch to the second battery, of course, and you double that.
Bosch Unlimited (Series 8) review: verdict
There are many things I like about the Bosch Unlimited (Series 8) vacuum cleaner. It has interchangeable, fast-charging batteries that can also be used on other appliances. It cleans effectively if you choose the right attachment and it looks slick too.
The problem with this vacuum cleaner is that it is almost as expensive as many of its rivals and generally not as powerful or effective. Both the Dyson V8 and the Dyson V10 and V11 both perform significantly better.