Top 10 best vacuum cleaners
April 9, 2021
Everyone needs a vacuum cleaner at home, whether you live large or small. The vacuum cleaner is essential for the household and therefore necessary to be able to clean your home regularly. Partly depending on the size of the home, the frequency of vacuuming and the convenience that is sought, a choice can be made from different types of vacuum cleaners. For example, you have the wireless vacuum cleaner for convenience, a robot vacuum cleaner to be completely unburdened and of course the traditional vacuum cleaner with wire to do the job yourself.
There is something for everyone and also in terms of price ranges there is plenty on offer. However, the range is so wide - each type of vacuum cleaner you have dozens of brands that offer countless models - that making a choice has been made a lot more difficult.
When you have made the choice for the type of vacuum cleaner (robot, wireless or traditional), you can quickly and easily find and possibly order the best vacuum cleaner in the top 10 below. More information about vacuum cleaners can be found in one of the many blogs on Draadlozestofzuigers.com where you can also compare the vacuum cleaners. You will also find more specific information about the robot vacuum cleaner and other vacuum cleaners here.
The top 10 of the best vacuum cleaners at the moment has been carefully compiled. We not only looked at the quality / price ratio, but also at the warranty conditions, the brand, suction power, keeping what is promised, own experiences, supplier and independent reviews and experiences of buyers. All this has resulted in the top 10 below with something for everyone. So avoid disappointments and use the research already done by us and get value for money.
Top 10 best vacuum cleaners
1. Rowenta Compact Power Cyclonic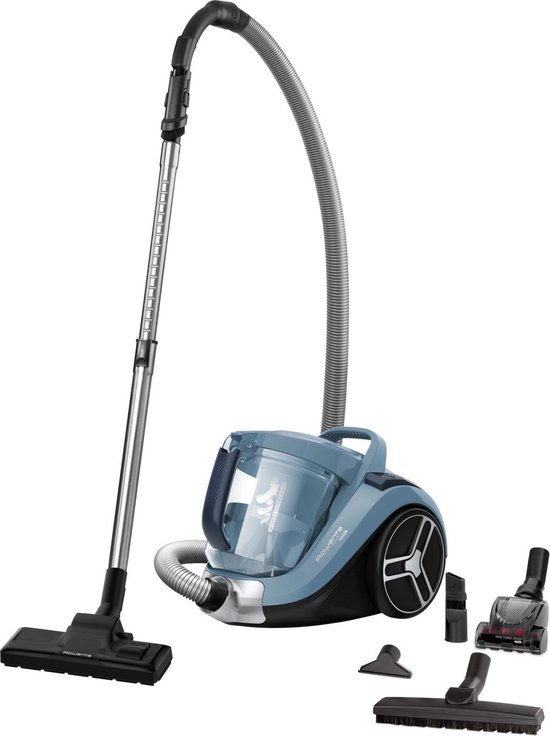 For sale on bol.com for € 105,- click here
This Rowenta bagless vacuum cleaner is powerful and, despite its small design, has a large capacity and is ideal for cleaning every home. The large XXL capacity of 2.5 liters makes cleaning easier because you don't have to empty the bin as often. The sleek, compact design is easy to store; even in the smallest cupboards or storage rooms. Discover this bagless vacuum cleaner designed for maximum ease of use, with an easy to empty dust bin. Long-lasting and thorough cleaning results are at your fingertips thanks to advanced cyclone technology that provides deep cleaning and effective separation of air and dust. Thanks to the powerful combination of an EffiTech motor and efficient squeegee you will have your floor clean every day in no time.
2. iRobot Roomba 960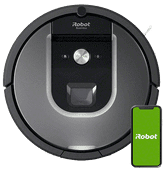 For sale on coolblue.nl for € 529,- click here
The iRobot Roomba 960 is part of the Roomba 900 series, and is one of the most comprehensive robotic vacuum cleaners from iRobot. This is mainly in the advanced sensors. With this, the robot scans the room and thus makes an efficient cleaning plan. In addition, it scans where dirt accumulates and focuses extra on this. The robot is equipped with smart area demarcation. With this you let him clean a room in a targeted way, or screen off areas where he is not allowed to go. Is the robot vacuum empty but not yet finished vacuuming? Then it drives back to the charging station, charges and then continues where it left off. The iRobot Roomba 960 app has more options than just turning the robot on and off. For example, you can easily set a cleaning schedule for the entire week and also see how far the robot is in its current cleaning schedule. On a map of your house you can see exactly where the robot is and how it is cleaned.
3. Dyson V11 Absolute Extra
For sale on coolblue.nl for € 649,- click here
With the Dyson V11 Absolute Extra you have a powerful cordless upright vacuum cleaner at home. With a high suction power, this Dyson is well suited for a thorough cleaning of your home. You can use this Dyson for up to 60 minutes in a row without charging the battery in between. The torque floor nozzle makes this Dyson suitable for every floor type. Because the battery of the V11 is interchangeable, you can also use this V11 Absolute for larger household tasks. Via the LCD screen you have real-time information about the status of the machine and battery life, but you also get error messages. When the 0.76 liter collector is full, the suction power is not lost.
On a full battery, the Dyson V11 Absolute Extra will last for an hour, but thanks to the detachable battery, you can double this operating time. You can easily replace the battery with the click system. Ideal for larger households or during major cleaning.
4. Blaupunkt Bluebot XBOOST - Robot vacuum cleaner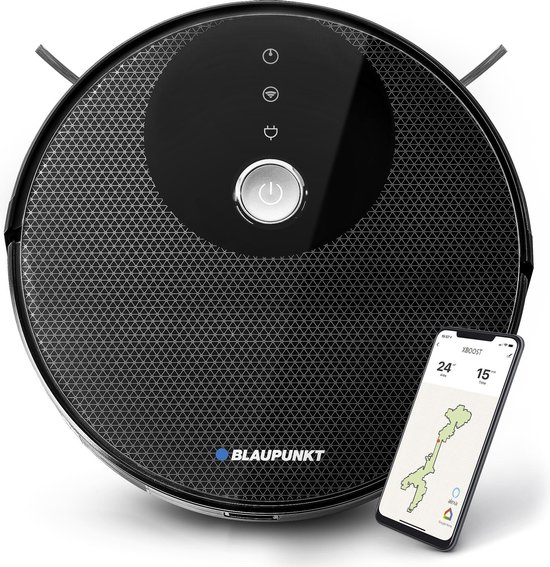 For sale on bol.com for € 299,- click here
This robot vacuum cleaner takes good care of the floor by vacuuming it and mopping it if desired. For the mopping function, fill the water reservoir with water and, if necessary, soapy water. Do you have pets or a lot of carpet at home? No problem! The squeegee with rotating brushes deals with this thoroughly. And if your nose quickly tickles with dust, then this robot is also a good help. With the special HEPA filter, this robot is suitable for people with a dust allergy. On this app you can see the progress of the cleaning and set the cleaning schedule.
5. Dyson V8 Absolute Extra+ - Stick vacuum cleaner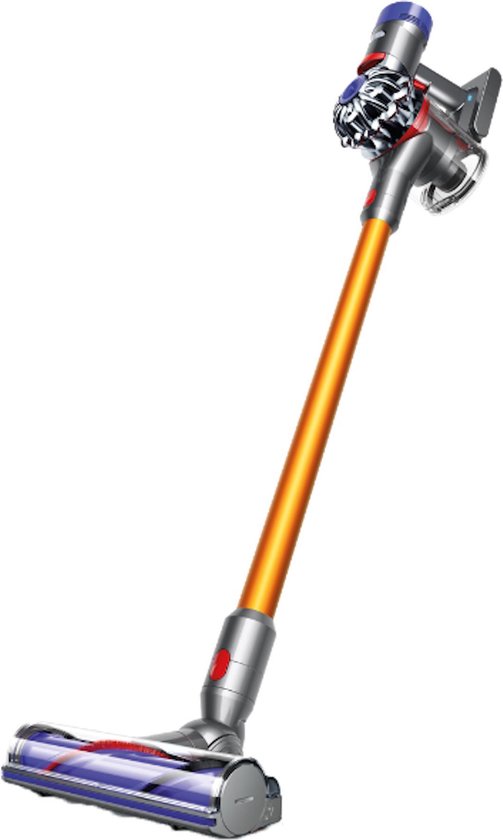 For sale on bol.com for € 469,- click here
Suitable for all floor types. The Fluffy floor nozzle removes fine dust and large pieces of dirt from hard floors. The motorized turbo brush, on the other hand, is suitable for removing stubborn dirt from carpets. Run time of up to 40 minutes. Provides 40 minutes of constant suction power in regular mode and 7 minutes in MAX mode. Fully charges in 5 hours.
Balanced to clean from floor to ceiling. With removable aluminum tube and accessories for cleaning on top, underneath and in between. Easy to transform into a handheld vacuum cleaner. By removing the tube and using the various accessories, it is easy to use in the car, on the stairs and on furniture.
6. Philips Performer Silent Cat & Dog
For sale on coolblue.nl for € 219,- click here
With the Philips Performer Silent Cat & Dog FC8784 / 09 + Veripart vacuum cleaner bags for Philips (28 pieces) you get a vacuum cleaner and lifetime pack of vacuum cleaner bags at home. With this Philips, you can vacuum your furniture in addition to hard floors, wooden floors or low-pile carpets. You will receive a powerful multi-purpose brush, a parquet brush and a mini turbo brush. This allows you to easily vacuum stairs, furniture and, for example, the back seat of the car. You will receive small accessories for the other vacuum cleaning jobs. Use the crevice tool for the skirting boards, for example, and dust the lampshades with the soft dusting brush. If your dog or cat is regularly on the furniture or if he sometimes travels with him in the car, this is a good choice for you.
7. AEG CX7-1-30IW - Stick vacuum cleaner

For sale on bol.com for € 107,- click here
This upright vacuum cleaner is a cordless 2-in-1 vacuum cleaner with enormous flexibility. The 180 ° EasySteer technology makes this vacuum cleaner easy to operate on all types of floors. The AEG CX7 has a powerful Lithium turbopower battery that you can use to vacuum for a maximum of 30 minutes, making this a good vacuum cleaner for it. The motorized nozzle is specially designed for textile surfaces, so you can easily remove pet hair and dirt. With a weight of 2.32 kg, this vacuum cleaner is very light.
8. IRobot Roomba e5
For sale on coolblue.nl for € 339,- click here
The iRobot Roomba e5 has a decent suction power. The 2 renewed rotating middle brushes ensure that coarse dirt does not get stuck in the nozzle and block it. Handy, especially if you have pets. You can easily remove the dust container from the robot to rinse it under the tap. This also removes the fine dust from the container and the robot retains its suction power for longer. If the robot with the dirt detection system encounters more dirt, it drives an extra lap over it. Do you want the robot to stay away from the kitchen while you are cooking? Then use the supplied virtual wall to demarcate this area. You can set this via the app.
9. MEDION MD18600 - Robot vacuum cleaner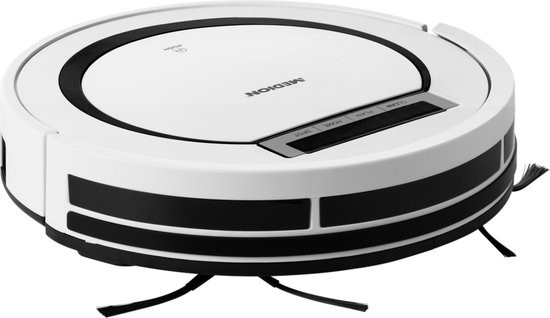 For sale on bol.com for € 129,- click here
Looking for a basic robot vacuum cleaner that supports you with vacuuming in your home? Then the Medion MD18600 - Robot Vacuum Cleaner - White is suitable for you. This robot is suitable for hard floors and has a usage time of up to 90 minutes. Battery empty? The vacuum cleaner returns itself to the supplied charging station and recharges itself there automatically. The robot vacuum cleaner independently ensures that the parquet, tiles, laminate and carpet are cleaned. With the brushes on the side, all dust and dirt are removed. Thanks to its compact height, the device can also easily be placed under most furniture. The infrared sensors on the bottom ensure that the robot vacuum cleaner does not fall down the stairs. Thanks to the other infrared sensors, the robot vacuum cleaner reliably bypasses all obstacles during work and thus prevents collisions and accidents.
10. AEG LX7-2-CR-A - Animal Edition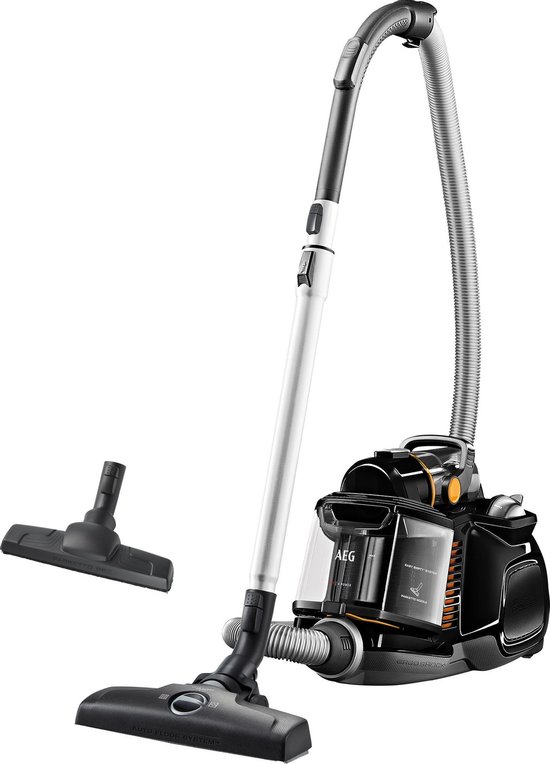 For sale on bol.com for € 149,- click here
This vacuum cleaner is bagless and ideal for a house with mainly hard floors and parquet. The vacuum cleaner has a very strong suction power on hard floors. Do you also have pets? Vacuuming dog and cat hair is no problem for the AEG LX7-2-CR-A thanks to the special turbo brush. In addition, this vacuum cleaner comes standard with a special parquet brush, especially suitable for more sensitive floor types such as marble and untreated wood. The weight of 5 kg is very light for a vacuum cleaner. It therefore moves smoothly and you lift it easily. The AEG LX7-2-CR-A has a fairly short cable of 6 m, making it especially suitable for smaller spaces.
Dyson vacuum cleaners
A very well-known and appreciated brand is the Dyson, which you also see frequently in the top 10 above. There is also a special blog written about this, which is very well appreciated, which elaborates on the differences between the Dyson models. Interesting and useful to read: "What is the difference between the Dyson V8, the Dyson V10 and the Dyson V11 cordless vacuum cleaner?".
Related Posts
Dyson has long been the king of the cordless vacuum cleaner, actually since the introduction of the ...
You hear the word Chromebook being used more and more often around you, but what is a Chromebook act ...